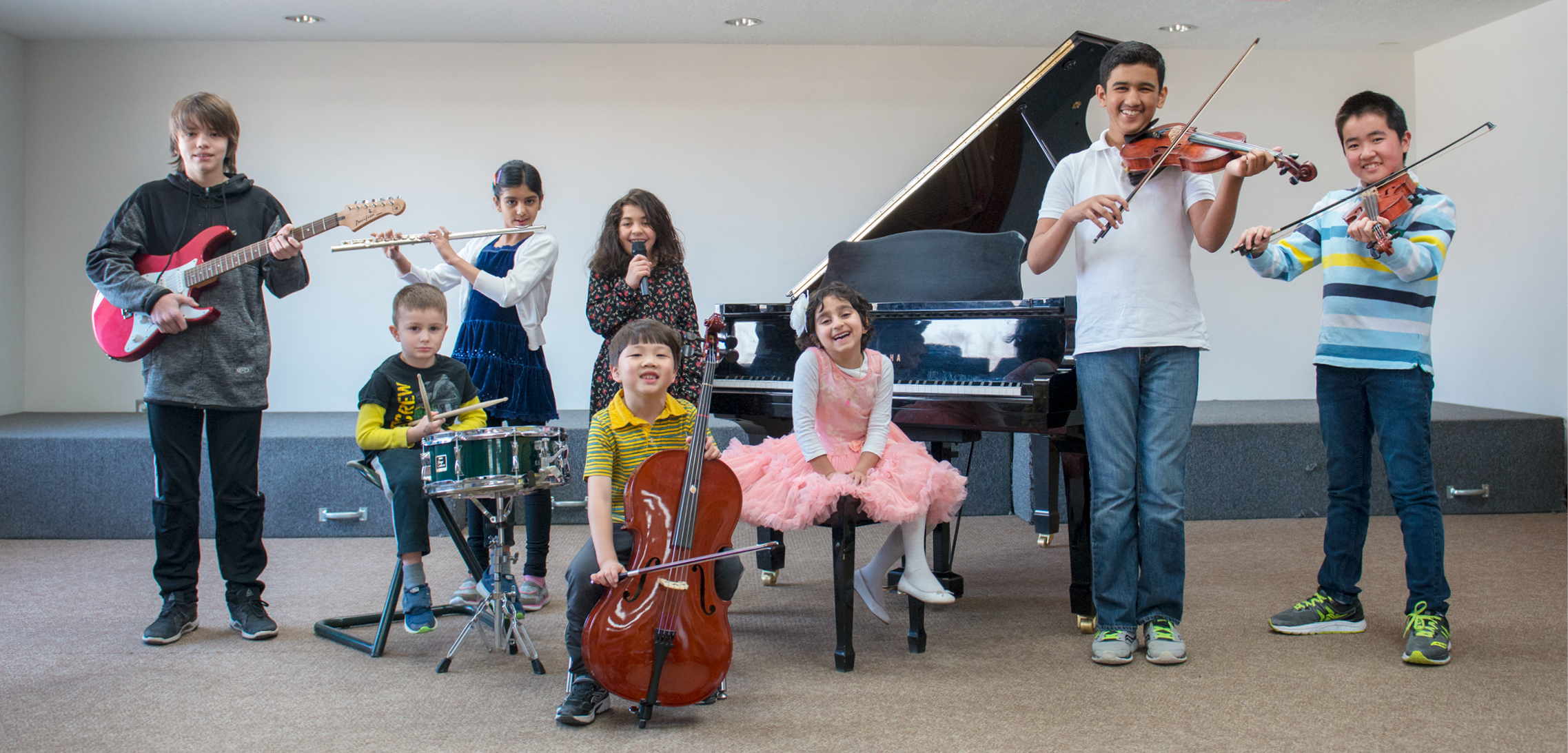 Our Music School
Many students take advantage of our in-school music and dance programs. We have 4 dedicated lesson and rehearsal rooms where private and group lessons run Monday through Friday, 8 am – 5 pm.
Students have the opportunity to play symphony orchestra instruments including piano, violin, cello, clarinet, saxophone or flute. They can also play rock bank instruments such bass, drums and guitar.
We have our own String Symphony Orchestra, which performs at assemblies, records a yearly CD, and competes at the annual K-W Kiwanis Music Festival. Group lessons are offered for: Dance Choir, Music Theatre, Rock Band, Music Theory and Ukulele.
Our Dance Program includes private lessons in ballet, jazz, tap, musical theatre and lyrical. Our group lessons take place after school and include: Creative Movement 1 (K-2), Creative Movement 2 (3-5), and Hip Hop (6-8).
Music and Dance students proudly showcase their talents for parents, grandparents and friends at numerous noon-hour concerts throughout the year.
For over 17 years, our music and dance programs have operated under the direction of renowned performer, Frank Leahy. Leahy studied music at the Royal Conservatory of Music, receiving the coveted Gold Medal and top marks in Canada. He went on to receive his B.A. in Music and went on to become the youngest Canadian National Fiddling Champion. Leahy has performed around the world as a soloist in more that 2000 symphonic pop concerts, theatres, and music theatre runs. Under Leahy's direction, all of our music and dance instructors have proven expertise working with children and are highly qualified in music education.
Program Highlights
K-W Chamber Music Presentations for all students (K-8)
Individual Lessons: Bass, Cello, Drums, Guitar, Piano & Violin
Group Lessons: Music Theory, Dance Choir, Music Theatre, Rock Band & Ukulele
Orchestra
Individual Voice Lessons
Junior, Intermediate and Senior Choirs
Individual and Group Dance: Ballet, Jazz, Tap, Lyrical, Hip-Hop, Contemporary